"From the sea to your interior"
VIDEO
Les Marées brings to life an innovative and aesthetic graphic concept, allowing you to visualize and understand at a glance a year of tides for a specific area of the coastline. Elegant curves that imprint the movement of the waters and the ever-changing seaside landscape.
First of all, visualizing a year's tide makes it easier to plan and anticipate aquatic activities such as surfing, seaside walks, fishing, boat trips, sand yachting, etc.
Then the idea is to integrate this seaside poster into our decoration and give it meaning, bring color and modernity.
Finally, nothing better than a beautiful poster to understand and learn how to read this calendar full of numbers! It is the ideal educational support for the little ones. The data used are complete and official from the national hydrographic services of the different countries.
The must-have for all ocean lovers and interior decoration addicts.
The concept
"A beautiful curve is better than a long explanation!"


The Best-Seller Product:
Based on this concept, we offer a designer, large format tide calendar. It is at the crossroads of usefulness and aesthetics, an essential tool that arrives in style in your interior.
Our calendar dusts off the traditional table of numbers. The curves are proportional to the coefficient, thus showing the importance of water movement and tidal periods. High tides are highlighted.
We print our tide calendars directly on wood in 60 x 80 cm format and on poster paper in 60 x 80 cm and 50 x 70 cm formats.
You will find your tidal zone along the Atlantic coast, Channel and North Sea in France plus some areas under development in Europe, Overseas according to our meetings.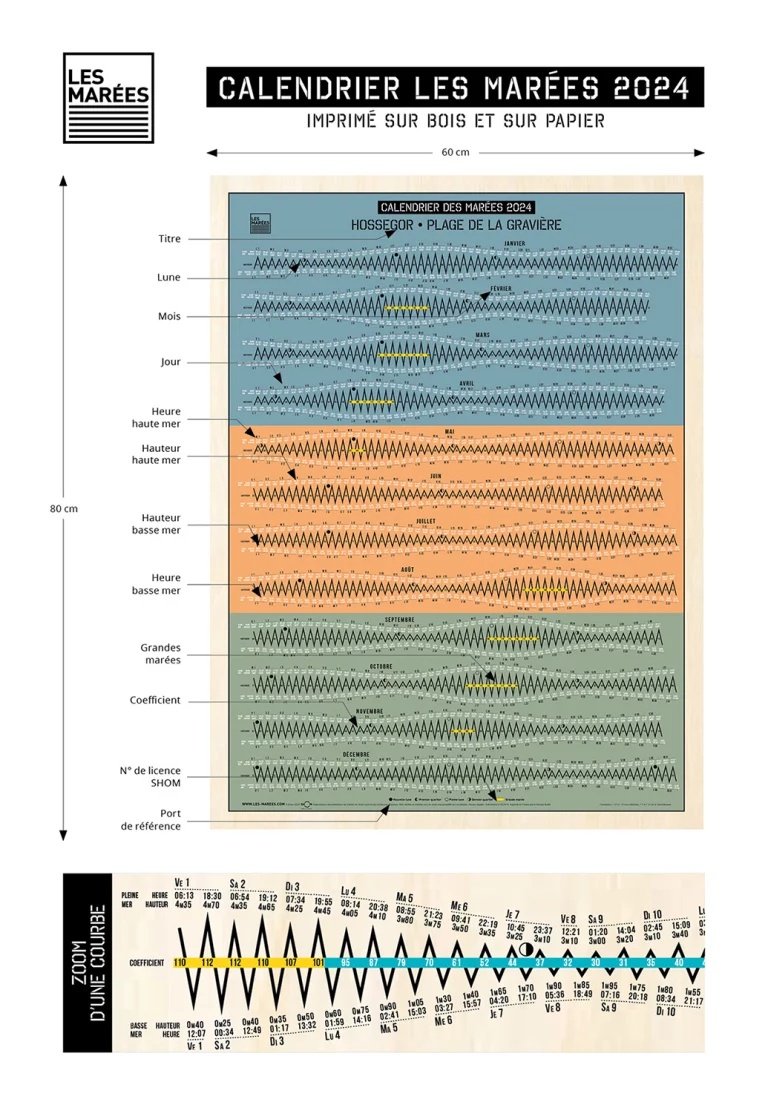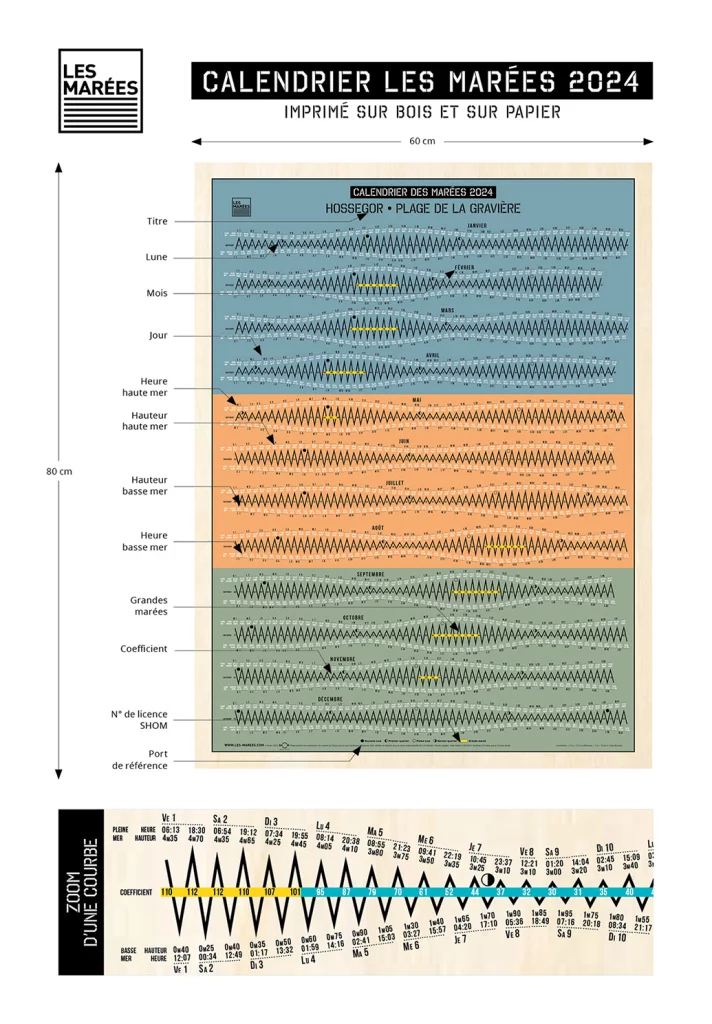 New for 2024:
Completely free customization of your tide calendar title.
You can write the name of your boat, your seaside villa, the name of your favorite beach, your "oceanic" mantra, it's up to you, let your imagination run wild. We have entered the era of made-to-measure!
Your tidal zone + 10 colors to choose from and your unique title! An important shift for our brand accompanied by the redesign of our website.
How can I personalize my tide calendar?
Our history :
I am Béatrice, creator of the brand in Hossegor "I created the tide calendar that I dreamed of, large format and colorful so that it fits into my decor".
The idea of the tide calendar came to me at home in Hossegor, a town on the Landes coast. For a long time, I ran a family restaurant whose terrace overlooking the marine lake lives to the rhythm of the tides. My clients constantly asked me about tide times, how they work, the date of the next high tides…I noticed that many people were unable to read the predictions on a numerical table. As a teacher in my first professional life, I know the panic caused by numbers in some people.
I was convinced of the interest of developing a more intuitive and affordable tool for everyone! It was because of my meeting in 2010 with Didier, my partner and companion in life, that this project came to fruition! Indeed Didier is a graphic designer, he knows how to make complex blocks of numbers attractive. This is his domain. The challenge was launched… At the end of 2015, we were ready to live to the rhythm of the tides. The Tides brand is launched!
We started in our South Landes – Basque Coast tidal zone in 2015 and have expanded our offer from year to year because each tidal zone has its own calendar!
From 2017 we began to collaborate with brands and economic or institutional players focused on the ocean and established on the coast.
In 2024 we offer 31 tide calendars corresponding to 31 French tide zones from Hendaye to Dunkirk. You are bound to find your area 😊. Find yourself on our map!
Thanks to great encounters we offer 7 tidal zones on the North Sea in Germany, 6 tidal zones in England and the emblematic zone of Peniche and Nazaré in Portugal. We also work in the overseas territories of Guyana, New Caledonia and Polynesia or in New Zealand.
Can't find your tidal zone around the world? ask us for the moon, we will do our best to get it for you!
Time passes… and we still sail with the rhythm of the tides!