Description
The painting on wood printed on both sides!
Want to change, opt for front and back printing.
Choose your tide zone using the drop-down menu.
Stroll from north to south of the French west coast and select your title!
During your order leave us a message. Indeed we need to know your choices:
– Tell us what color do you want for the 2023 tide calendar printed on the front?
– Tell us which illustration in our catalog did you choose for printing on the back?
– We will send you a message to confirm your choices with you.
Regarding the tide calendar, the predictions come from SHOM. Check out our Tide Zones Guide to find out what your calendar predictions are. If a correction inside the zone is necessary, it will be specified at the bottom of the schedule.
Official SHOM tide predictions. Registration of the reference port and the license number at the bottom of the calendar. Reproduction forbidden.
Choose your color!
A reversible painting in your decoration!
The essential tool on the coast is a painting and a decorative object.
French creation and printing on wood from PEFC managed forest.
Wood is renewable, recyclable, reusable and biodegradable.
IT exists for Paimpol, Le Touquet or Moliets. But not only…
Calendar note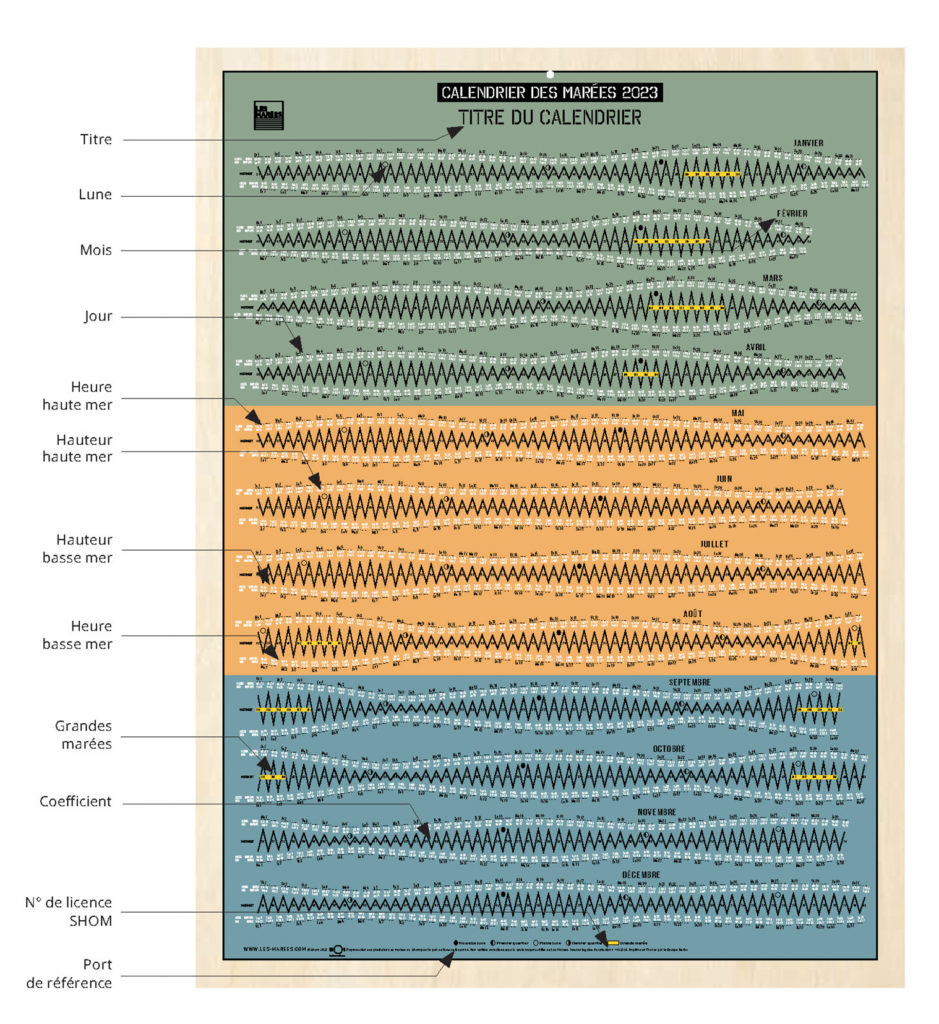 Contents and characteristics of the front / back table!
A year of ocean tide predictions at a glance. Wide-angle view.
All data from January to December 2023.
The curves are proportional to the coefficients.
High tides are highlighted as colored bars.
Moon phases demonstrate the impact of the moon on the tides.
Reading the calendar is intuitive, just follow the curve!
Canvas printed on light poplar wood
Size 60 x 80 cm. 8mm thick. Center hole at top for hanging.
Rigid panel to place on a piece of furniture or to display as a painting in your living space.
The panels are raw in aspect and all different.
The tide calendar on the front, an illustration on the back.
Manufacturing only on demand in France
We only print what you order from us. The delay is between 2 to 5 days maximum depending on the period.
You want to know the production time of your calendar, ask us the question and we will answer you within the day.