Description
Tide calendar orange poster
Wake up your interior decoration and give it meaning!
The tide poster graphically depicts the predictions of the tides and the perpetual motion of the ocean.
It's an original impression to keep your feet in the water all year round.
If your holiday memories bring you to the island of Groix or the island of Sein, select the Brittany region in the menu and choose the title corresponding to your tide zone.
Stroll from north to south of the French west coast and select your title!
The data is delivered by our partner, SHOM. Check out our Tide Zones Guide to find out what your calendar predictions are. If a correction inside the zone is necessary, it will be specified at the bottom of the schedule.
Official SHOM tide predictions. Registration of the reference port and the license number at the bottom of the calendar. Reproduction forbidden.
Useful and nice poster!
The tides poster represents the immutable movement of the tides!
The perfect combo: the essential tool poster on the coast and a decorative object at the same time.
Take away the souvenir of the island of Groix or the island of Sein.
It exists for Le Havre and the island of Noirmoutier. But not only…
Simplify the tides!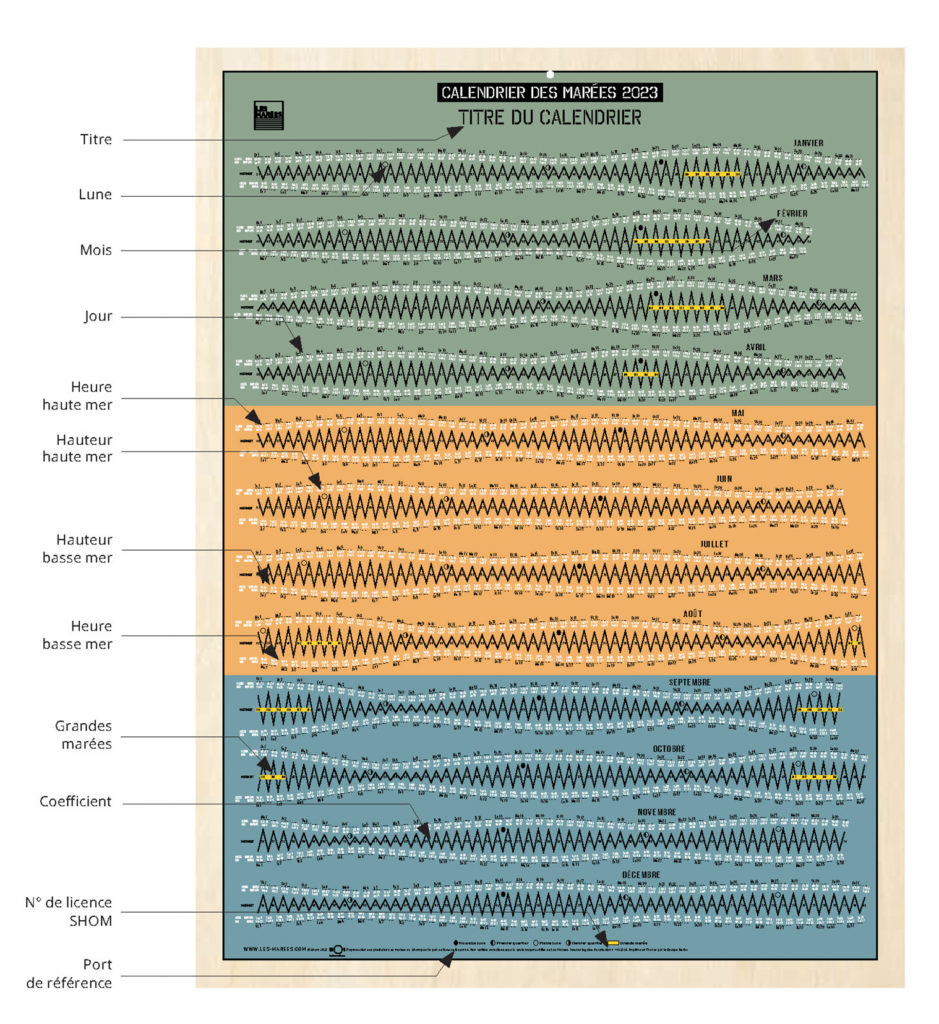 Content and features of the tide poster!
A year of ocean tide predictions at a glance. Wide visualization.
All data from January to December 2023.
The curves are proportional to the coefficients.
High tides are highlighted as colored bars.
Moon phases demonstrate the impact of the moon on the tides.
Reading the calendar is intuitive, just follow the curve!
Tide calendar printed on 250 g matte offset paper.
Size 60 x 80 cm. Format for standard frame of the same size.
Poster sold alone.
Manufacturing only on demand in France
We only print what you order. The delay is between 2 to 5 days maximum depending on the period.
You want to know the production time of your calendar, ask us the question and we will answer you within the day.