Description
Design and large format tide calendar in poster form
For decoration and ocean lovers.
Whether you live on the coast or far from your corner of paradise, the tide poster is essential for your home sweet home.
Its content is rigorously exact, the data is complete, its graphics are modern.
If your spot is located near the Bassin d'Arcachon, select the Aquitaine region from our menu.
Stroll from north to south of the French west coast and select your title!
The data is delivered by our partner, SHOM. See our Tide Zones Guide to find out which predictions are used. If a correction inside the zone is necessary, it will be specified at the bottom of the calendar.
Official SHOM tide predictions. Registration of the reference port and the license number at the bottom of the calendar. Reproduction forbidden.
Useful and nice poster!
We draw elegant curves for more than 30 tidal zones on the coast.
We have created the one for your territory, so take advantage of it!
Wimereux, Dieppe or Barfleur are in our catalog.
Guéthary, the bay of Audierne or Le Conquet too. But not only…
Notice of the tide calendar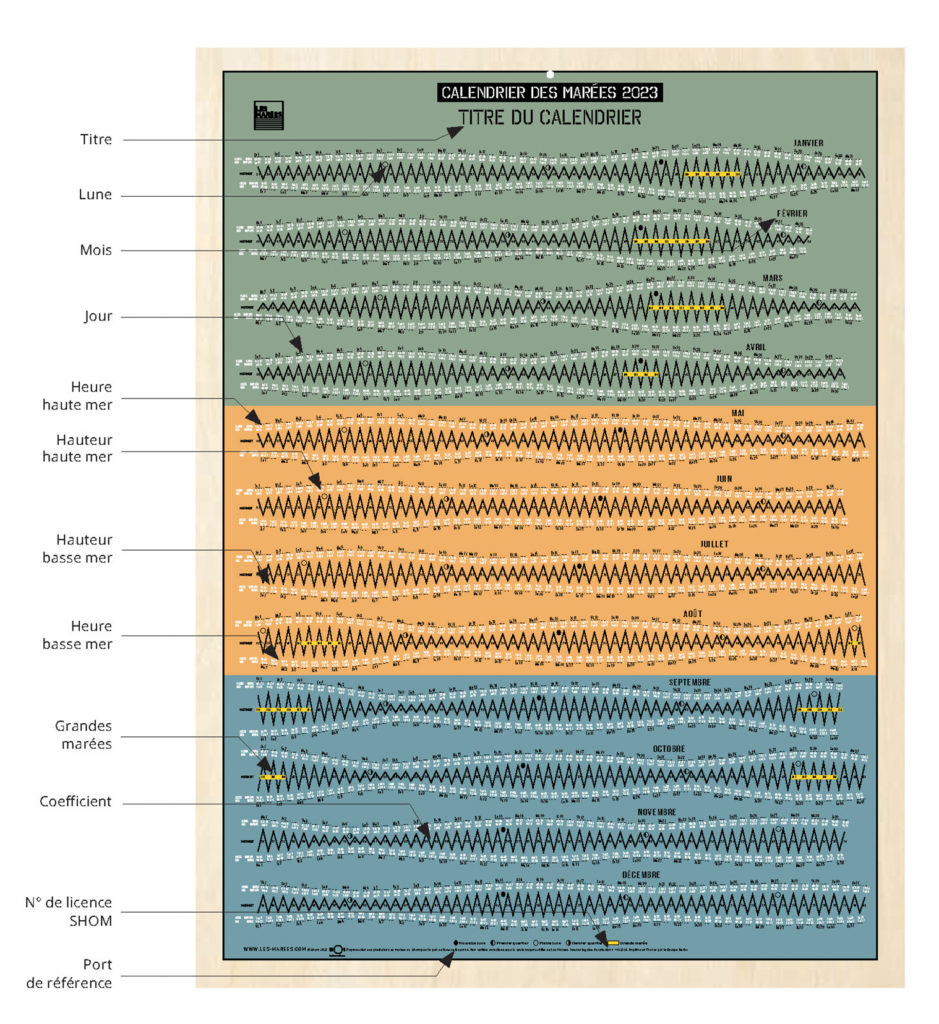 Content and features of the tide poster!
A year of ocean tide predictions at a glance. Wide visualization.
All data from January to December 2023.
The curves are proportional to the coefficients.
High tides are highlighted as colored bars.
Moon phases demonstrate the impact of the moon on the tides.
Reading the calendar is intuitive, just follow the curve!
Tide calendar printed on 250 g matte offset paper.
Size 60 x 80 cm. Format for standard frame of the same size.
Poster sold alone.
Manufacturing only on demand in France
We only print what you order. The delay is between 2 to 5 days maximum depending on the period.
You want to know the production time of your calendar, ask us the question and we will answer you within the day.